If you love love love reading like I do, check out crazyrunninglegs site about her June Book Club selection.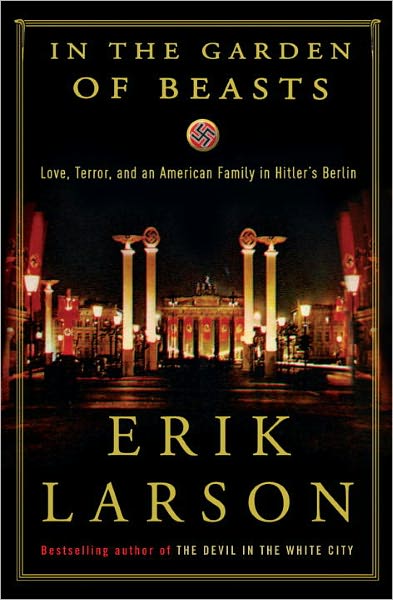 I just downloaded the book onto the Kindle and I'm excited about devouring it over the long weekend.
From Amazon.com
"Amazon Best Books of the Month, May 2011: In the Garden of Beasts is a vivid portrait of Berlin during the first years of Hitler's reign, brought to life through the stories of two people: William E. Dodd, who in 1933 became America's first ambassador to Hitler's regime, and his scandalously carefree daughter, Martha. Ambassador Dodd, an unassuming and scholarly man, is an odd fit among the extravagance of the Nazi elite. His frugality annoys his fellow Americans in the State Department and Dodd's growing misgivings about Hitler's ambitions fall on deaf ears among his peers, who are content to "give Hitler everything he wants." Martha, on the other hand, is mesmerized by the glamorous parties and the high-minded conversation of Berlin's salon society—and flings herself headlong into numerous affairs with the city's elite, most notably the head of the Gestapo and a Soviet spy. Both become players in the exhilarating (and terrifying) story of Hitler's obsession for absolute power, which culminates in the events of one murderous night, later known as "the Night of Long Knives." The rise of Nazi Germany is a well-chronicled time in history, which makes In the Garden of Beasts all the more remarkable. Erik Larson has crafted a gripping, deeply-intimate narrative with a climax that reads like the best political thriller, where we are stunned with each turn of the page, even though we already know the outcome. --Shane Hansanuwat "
Anyone else an avid reader? Any recommendations? Right now I'm on a YA kick, just finished the Hunger Games trilogy and waiting on the final Maze Runner book.